Earthbeat has been reissued on CD. Wasn't expecting this one!
https://fsol.bandcamp.com/album/earthbe ... ilation-cd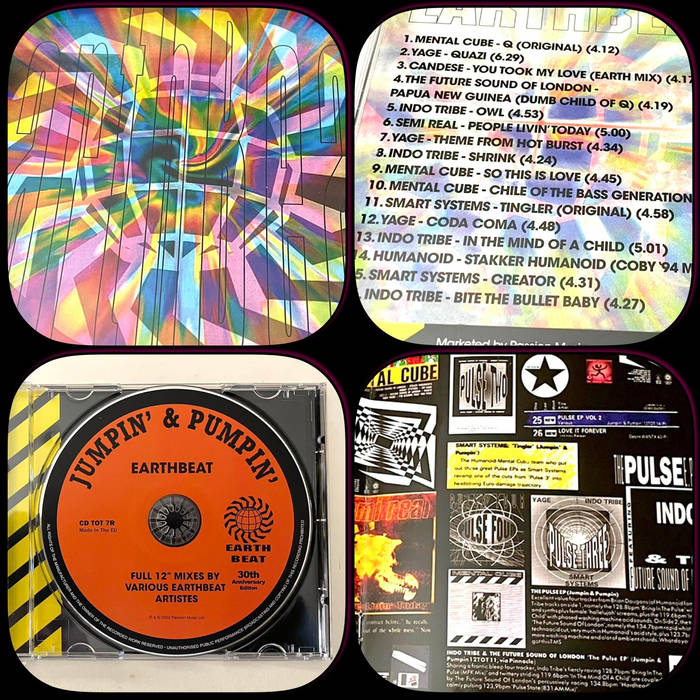 ---
---
2LP version for Record Store Day.

"30th Anniversary Edition of the iconic 1992 "Earthbeat" collection with much sought after tracks from the series of 'Pulse' EPs and 12" singles by The Future Sound Of London under their many guises. This special limited to 1500 hand numbered edition comes in a gatefold sleeve with a unique centrefold featuring past artwork and images from the period of these classic, much sought after tracks and rare mixes."
---
all killer tracks. cant wait for the 2lp reissue!
---
Great comp!
I compared the overlapping tracks with the Mental Cube EP and noticed that the speed is significantly faster, to the point that the pitches are noticeably higher. I wonder which one is "correct"? That's probably a fundamentally silly question in the FSOL sphere.
---
most likely on the EP Mental Cube is correct... on the Earthbeat compilation, probably the version for Earthbeat, due to the fact that there was not enough space (on physical media) for full versions, some tracks accelerated, others clipped (fading) - I think in vain, I thought that it would be logical to restore tracks from vinyls (`91-92) and include the full versions in the collection on the reissue 2022... unfortunately, they say little has changed since the 1992 edition, maybe someday a digital version with my wishes will be released (and also in digital and "Mind Maps 1/2/3...")
---