THE FUTURE SOUND OF LONDON/INDO TRIBE - THE PULSE EP (1991)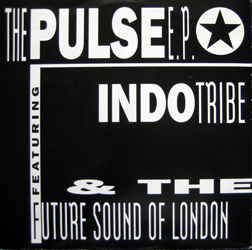 12" (12TOT11)
01. Indo Tribe - Bring In The Pulse (MFK Mix)
02. Indo Tride - In The Mind Of A Child (First Born Mix)
03. The Future Sound Of London - Hard Head (Frothin' At The Mouth Mix)
04. The Future Sound Of London - Pulse State (8.31 A.M. Mix)
Notes:
All songs written by Brian Dougans/Gary Cockbain. Recorded at Earthbeat 1991. 1 & 2 produced by Mental Cube. 3 & 4 produced by Yage.
The Pulse EP was the duo's first release on the Jumpin' & Pumpin' label.
'In The Mind Of A Child' appears on
Earthbeat
without its remix name. 'Pulse State' is from the album
Accelerator
. The EP later appeared as part of
The Pulse EPs
.
The first appearance of Indo Tribe and, more importantly, of FSOL. Melodic techno for the most part, except 'Hard Head' which is hardcore/rave in style.